2018 PACT GENERAL ASSEMBLY
As the new academic year starts, members of the Philippine Association of Chemistry Teachers gather in one place to  elect the Board Members of the association. This is also the time where members present and share research studies in science education . The assembly is also a venue where members get to collaborate and network with the other members in the Regional Chapters.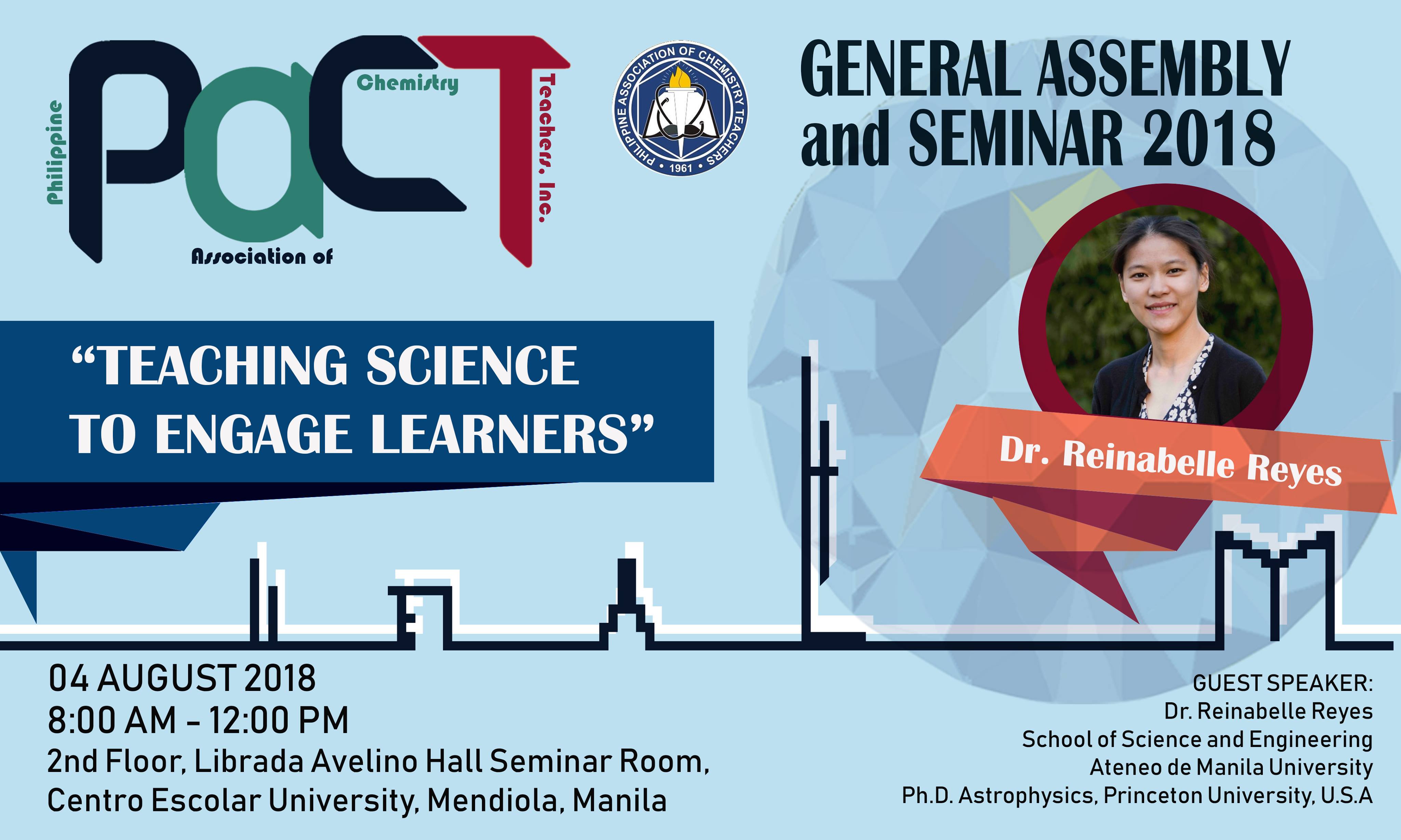 design by Jerico Echevarria
The General Assembly was held on the 4th of August 2018 at the Librada Avelino Hall, Centro Escolar University, Mendiola, Manila. Dr. Julieta Z. Dungca, CEU's Dean of School of Science and Technology, welcomed the members and encourage the teachers to lead senior high school graduates to pursue science courses in their tertiary level. This was followed by a significant and very timely discussion on how to engage learners in science by the guest speaker Dr. Reinabelle Reyes. Dr. Reyes has a PhD in Astrophysics at the University of Princeton, USA. She is currently connected with the School of Science and Engineering of Ateneo de Manila University. She stressed that in order for the students to be more engaged in science, teachers must "(1) model engagement in the classroom, (2) explain the science behind everyday things, (3) introduce real scientists and what they do and (4) practice inquiry-based learning."
After the seminar, Dr. Voltaire G. Organo and Mrs. Annabelle J. Monzon presented the President's and Treasurers reports respectively. Then, the election committee lead by Mr. Emil Escalante, conducted the election of the new board members. Before the session ends, the members participated in the ratification of the amendment of the PACT By-Laws. The General Assembly was attended by 52 academic institution representatives.